We are thrilled to announce that Everlight Radiology celebrated the opening of the first ever Dubai teleradiology reporting hub this month, located in One Central Dubai. This marks a major milestone in our global expansion strategy and reinforces our commitment to providing high-quality radiology reporting services to healthcare providers worldwide.
Equipped with state-of-the-art technology, our new reporting hub will provide a base for our radiologists living and working in Dubai, offering our 24/7 'daylight' hours high-quality radiology reporting services to healthcare providers through the UK, Ireland, Australia and New Zealand. The location of the new hub in One Central Dubai provides a convenient base to cover urgent overnight services across UK and Australian time zones, and positions Everlight Radiology as a key player in the Middle Eastern healthcare industry.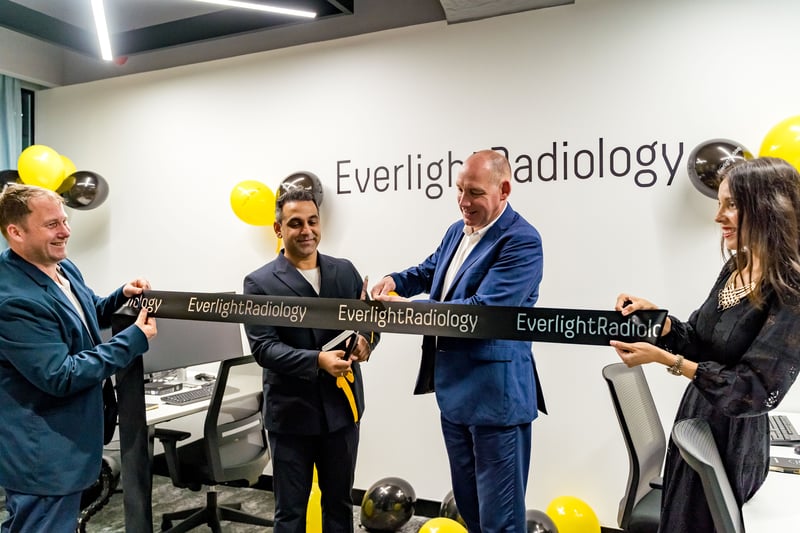 Celebrations and Iftar
To celebrate the launch of our new reporting hub, we held a ribbon-cutting ceremony, followed by a tour of the facility for invited guests. Attendees were able to witness first hand the cutting-edge technology and network with the experienced team of radiologists and senior leadership that make up Everlight Radiology.
To cap off the celebration, we hosted an Iftar dinner at The Majlis, Jumeirah Emirates Towers. The dinner was a way to thank the radiologists for their dedication and support, and to celebrate this important milestone for our company. Our guests also took home commemorative gifts from the event.
"We are delighted to expand our presence in the Middle East and provide a base for our radiologists in the region to work and enjoy the best Dubai has to offer," said Rob Anderson, Global CEO of Everlight Radiology. "Everlight is unique in being able to offer state of the art reporting space to radiologists who are based here as well as those on a working holiday or passing through Dubai."
Umair Janjua, UAE Clinical Lead at Everlight Radiology, added, "Our team of radiologists in Dubai are highly skilled and experienced in providing accurate and reliable diagnoses, which is crucial in delivering effective patient care. They have UAE reporting experience and accreditation. We look forward to expanding our team and welcoming new radiologists. Our aim is to be the number one teleradiology service in the UAE and wider Gulf region."
The One Central Dubai location provides several benefits for Everlight and our clients. The facility is equipped with the latest technology, making it possible for us to deliver timely and accurate diagnoses to patients in our core reporting regions, while the location's easy access to transportation links and central location also makes it convenient and desirable for radiologists.