The conference proved to be a bustling hub of learning and collaboration, and we were thrilled to be a part of it.
Connecting with Colleagues
Everlight Radiology's presence at the RCR ASM was marked by our eye-catching stand showcasing our new Imagine More proposition for radiologists, alongside our world class global mobility offer in the form of our travel desk with information on how our team can get you reporting from anywhere in the world.
On stand, the team met with a multitude of colleagues both old and new and prospective radiologists interested in the idea of reporting remotely with Everlight. It was a really busy few days and a great chance to connect with some of our vendors too.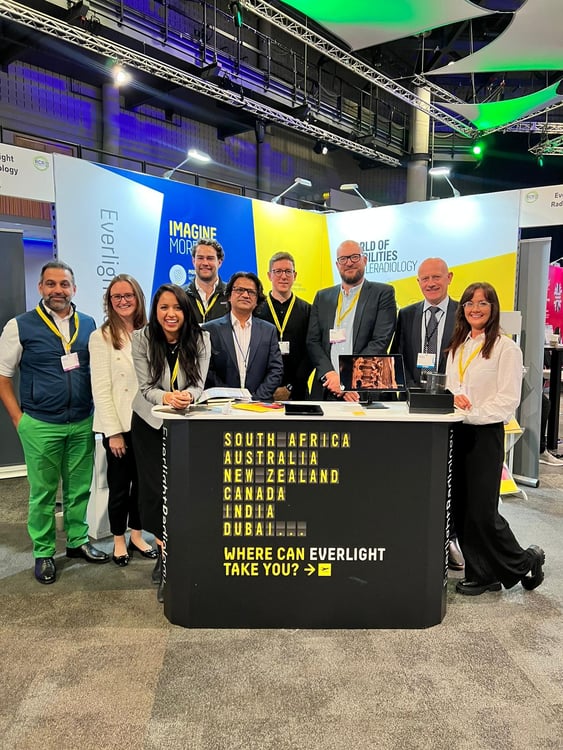 In the Spotlight
Two luminaries from the Everlight Radiology team took the stage to share their expertise and insights during the two-day event. Dr. Robin Evans, one of our experienced radiologists, conducted a captivating session at the Silent Symposium Theatre. His presentation on "Clinical Governance in Teleradiology" offered a unique perspective on the challenges and triumphs in the world of remote radiology, demonstrating Everlight Radiology's commitment to quality and governance.
Dr. John Vedelago, another notable member of our team, participated in an interactive session on "Emergency Radiology: Body Trauma." His expertise and insights contributed significantly to the discussion, emphasizing Everlight Radiology's dedication to delivering exceptional care in crucial situations.
Sharing Our Commitment
Throughout the conference, Everlight Radiology showcased its unwavering commitment to delivering top-notch teleradiology services, staying at the forefront of industry innovation. Attendees had the chance to witness our dedication and approach to advanced technology and efficiency.
In line with this commitment, our mobile workstation took center stage, wowing the audience with its ability to provide timely and accurate diagnoses on the go. This innovation underscores Everlight Radiology's mission to empower radiologists and enhance patient care. The live demonstration left an indelible mark on attendees, showcasing our commitment to excellence.
The Everlight Radiology Experience
The Royal College of Radiologists Annual Scientific Conference proved to be a remarkable platform for sharing ideas, insights, and innovative solutions in the world of radiology. We can't wait to attend again next year, and will be catching up with the many new connections we made over the next few weeks.